Price
1 x Hydrafacial Session £130
Prescriptive Boosters £160
Course Package Price £POA
With technology ever-evolving and the ongoing pursuit for smooth, bright, and youthful-looking skin, it makes sense to experience all the latest beauty treatments. So, hello to Hydrafacial; growing in popularity, the company claims the treatment is carried out every 15 seconds across 80 countries, so Natural Beauty has put together the ultimate guide to what Hydrafacial is and how this innovative beauty treatment can become your new best friend!
What is Hydrafacial?
Hydrafacial is a rejuvenating treatment to deliver long-term skin health that can also be tailored for your specific skin type. Sometimes referred to as hydradermabrasion, Hydrafacial is a more advanced, gentle, and effective next-generation microdermabrasion treatment partnered with cleansing, hydrating and moisturising serums. Whilst it's more common for the treatment to be applied to the face and neck, Hydrafacial is also perfect for other body areas to improve skin tone, texture and wrinkles, so it's ideal for ageing hands and knees or congested skin.
Microdermabrasion v Hydrafacial
Both procedures deliver mild skin resurfacing to achieve healthier, more radiant, youthful-looking skin. The microdermabrasion process uses fine crystals and a vacuum to remove dead skin cells in its exfoliating process. However, Hydrafacial uses a unique, patented 4-in-1 delivery system with Vortex-Cleansing™, HydroPeel® Exfoliation, Vortex-Extraction™ and Vortex-Fusion® to cleanse, exfoliate and extract impurities and dead skin cells and hydrate the skin. Vortex-Fusion technology uses the 4-in-1 spiral design tips paired with the Hydrafacial vacuum technology and serums. This technology creates a vortex effect to more easily dislodge and remove skin impurities while delivering skincare serum solutions tailored to your skin type.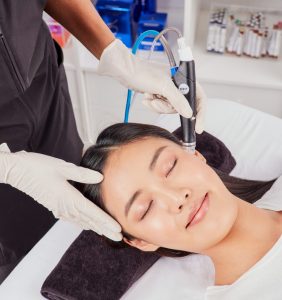 The Three-Step Hydrafacial Process
Our Hydrafacial treatment can be carried out in as little as 30 minutes and includes a detox to improve circulation of the lymph system to help eliminate toxins. We finish with a rejuvenation treatment with a red and infrared LED light to elevate results by stimulating collagen, reducing redness and supporting vitamin D production. During the three-step Hydrafacial, your skin will experience:
Cleanse and peel using Vortex-Cleansing™ and HydroPeel® exfoliation to uncover a new layer of skin through gentle exfoliation and relaxing resurfacing.
Extract and hydrate using the Vortex extraction to remove skin impurities and debris from pores. Nourishing and intensive moisturisers are applied to hydrate the skin.
Fuse and protect with Vortex-Fusion® to drench the surface of your skin with peptides and antioxidants for maximum glow and skin health.
Is Hydrafacial painful?
Hydrafacials are a non-invasive beauty treatment with its spiral design HydroPeel® tips delivering painless extractions. Your skin won't be punctured, meaning there's no healing involved, no downtime, and no side effects, with some saying it's like a tiny vacuum gently pulling on your skin.
Is it suitable for all Skin Types?
The treatment is perfect for every skin type and colour, with the skin-nourishing serums tailored for your specific skin type or issue. The Hydrafacial beauty treatment detoxifies, rejuvenates and protects the skin regardless of age or ethnicity, delivering a soothing, revitalising, non-irritating and immediate glowing effect. You can also personalise your treatment by adding booster super serums to tackle more specific skin concerns.
.
Hydrafacial results speak for themselves!
With a Hydrafacial treatment, you can experience immediate results and long-term benefits without irritation or downtime in as little as 30 minutes, with clients reporting noticeable results after the first treatment. Our Hydrafacial therapy can help with:
Fine lines and wrinkles
Elasticity and firmness
Even skin tone
Skin texture
Brown spots
Oily and congested skin
Enlarged pores
Skin hydration
Nasolabial folds
Hydrafacial Perk Technology for Lips and Eyes!
You can also experience Hydrafacial Perk for the delicate eye and lip areas either as stand-alone treatments or as a complementary treatment to the Hydrafacial for your skin. For example, the Hydrafacial lip treatment delicately exfoliates and hydrates to slightly perk and pump up lips for the perfect pout. And our Hydrafacial eye treatment can help re-energise your eyes and reduce the appearance of puffiness and dark circles whilst diminishing the appearance of wrinkles and fine lines.
Hydrafacial Keravive for your Hair
When our hair is healthy, we all feel more confident, and our hair is only healthy when our scalp is healthy. With the HydraFacial™ Keravive™ treatment, you can experience a revolutionary scalp treatment that delivers healthier, fuller-looking hair. The Hydrafacial will exfoliate the scalp, cleanse hair follicles and stimulate circulation, simultaneously providing a proprietary blend of growth factors. And when partnered with other scalp and hair therapies, HydraFacial™ Keravive™ makes the perfect enhancement to other treatments.
To learn more click here for Hydrafacial All You Need To Know 
Our Hydrafacial beauty treatment undoubtedly offers plenty of benefits, so if you have any questions or concerns or simply want to discuss a treatment plan, we'd love to hear from you. Our friendly team are on hand to answer any questions, so get in touch with us by phone, or if you work or live in the neighbouring vicinity of Eastcote, Pinner or Northwood Hills, pop in for a chat. We'd love to see you!